STRAWBERRY AND CREAM CAKE

Ingredients
1 cup unsalted butter at room temperature
2 cups white sugar
2 large eggs
2 teaspoons freshly squeezed lemon juice
2 cups + 3 tablespoons white flour
5 tablespoons cornstarch
3 tablespoons strawberry jell-o mix dry
1/2 teaspoon baking soda
1/4 teaspoon salt
1 cup buttermilk or milk mixed with lemon juice
2/3 cup chopped fresh strawberries
Frosting
1/2 cup unsalted butter softened
1 package (8 ounces) full-fat cream cheese at room temperature
2 teaspoons vanilla extract
4- 4 and 1/2 cups powdered sugar
Few strawberries for topping.
Preparation
Preheat the oven to 350 degrees F. Grease and flour a 9 x 13 pan and set aside.
Beat the room temperature butter with hand mixers until light and creamy. Slowly add in the sugar until the mixture is light and fluffy.
In another bowl, lightly beat the eggs and then add the mixture and mix along with the freshly squeezed lemon juice. Beat in the milk with lemon juice(mentioned in ingredients).
In a separate bowl, sift together the flour and cornstarch 2-3 times and then add in the jell-o mix, baking soda, and salt.
Add the dry ingredients to the wet and beat at low speed until just combined.
Remove the stems from the strawberries and finely chop. Add in the finely chopped strawberries to the cake.
Pour the batter evenly in the prepared 9 x 13 pan.
Bake for 30-40 minutes or until a toothpick comes out clean when inserted into the center.
Cool the cake for at least one hour and then chill in the fridge for another hour.
Frosting:
Beat the softened butter and room temperature cream cheese until completely creamy. Beat in the vanilla. Slowly beat in the powdered sugar until smooth and desired consistency.
Spread the frosting evenly over the cake and deocorate with strawberries.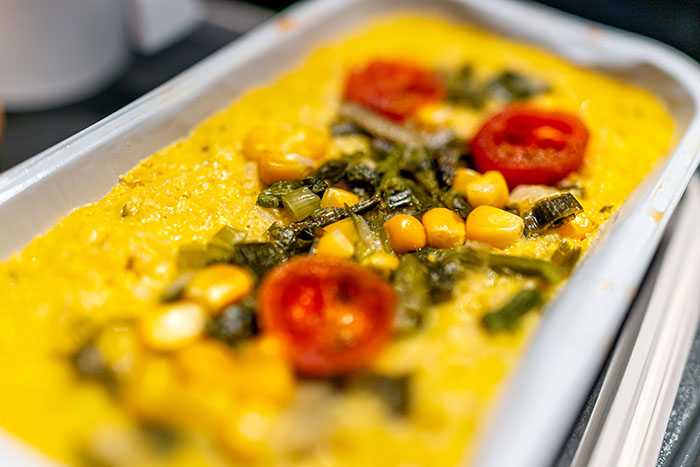 CORN AND SPINACH BAKE
Ingredients
1 tsp olive oil
1 onion , finely chopped
1 clove garlic , grated
1 cup chopped spinach
3/4 cup boiled sweet corn kernels
salt to taste
1/4 tsp freshly ground black pepper powder
1/8 tsp dried oregano
1 cup white sauce
1/2 cup grated mozzrella cheese
Preparation
Heat the oil in a wok, add the onions and garlic and saute it till they turn pink in colour.
Add the spinach and corn and cook on a medium flame for 3 to 4 minutes.
Add the salt, pepper and oregano and mix well.
Now add the white sauce and 2 to 3 tbsp of cheese and mix well and cook for 2 to 3 minutes.
Transfer the mixture into a baking dish and sprinkle the rest of cheese and grill in an oven till chesse melts.
Serve immediately.
BALSAMIC WATERMELON FETA SALAD
Ingredients
for the dressing:
2 tablespoons balsamic vinegar
2 tablespoons white vinegar
Salt and pepper
1/4 cup olive oil
For the salad:
1 watermelon, cut into bite-sized chunks
6 cups fresh spinach or arugula
1 red onion onion, thinly sliced
2/3 cup feta cheese, crumbled
1/2 cup slivered almonds
2 tablespoons chopped fresh basil
Preparation
In a small bowl, combine the vinegars, salt, pepper, and whisk until salt is dissolved. Slowly whisk in the olive oil, a few drops at a time. Add in the chopped basil, taste, and adjust seasonings.
In a large bowl, combine the melon, arugula/spinach, onion, and feta. Pour the dressing over the melon mixture and toss gently until everything is coated and evenly mixed.
To serve, divide salad among individual plates and garnish with slivered almonds and extra basil leaves.