Muscat: Oman will hope to change the 'final' script at the Asian Beach Handball Championships on Sunday when they take on favourites and five-time champions Qatar in the summit clash of the 9th Asian Beach Handball Championships in Bali, Indonesia.
Both the finalists also secured their place in the 11th IHF Men's Beach Handball World Championships in June/July 2024 after advancing to the Asian finals.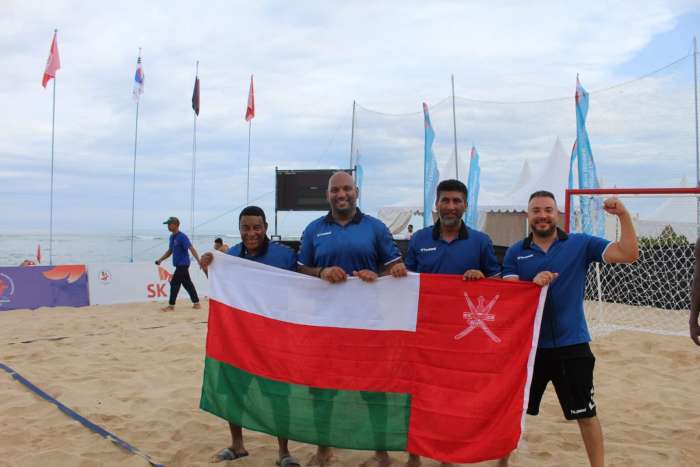 In the past eight Asian editions, Oman have played against Qatar for the title on five occasions but have failed to get past the Team in Maroon on each occasion.
The last time Oman played against Qatar was in the 2019 final in Weihai, China, when Qatar won their fifth straight Asian title after a 2-0 victory. Oman have the honour of being crowned the champions at the inaugural championship in 2004 when they defeated Bahrain in the final played in Muscat.
Coached by experienced Hamood al Hasani, Oman reached the final in Bali on Friday when they stunned defending champions Iran 2-0 (23-11, 22-20) in the semi-finals.
In the other semi-final game, last edition's runners-up Qatar beat Vietnam 19-18, 19-18. Both Oman and Qatar will be playing in their seventh Asian finals.
Oman had emerged Group B topper, remaining unbeaten as they collected 10 points. Oman began with a 2-0 win over Hong Kong and then went on to beat Vietnam 2-0, Indonesia 2-0, Kuwait 2-0, and China 2-0 in group stage.
Qatar also maintained an unbeaten run in Group A.
Oman will participate in the beach handball worlds for the seventh time next year after making their debut in 2004.
The winning team on Sunday will also qualify for the beach handball competition at the 2nd ANOC World Beach Games, which will be held in Bali, Indonesia, from August 5 to 12, 2023.
The 9th Asian Men's & Women's Beach Handball Championship began on March 10 with the
following participating nations in the men's event: Indonesia, Iran, Qatar, Vietnam, Oman, Philippines, Kuwait, Hong Kong, Saudi Arabia, South Korea, and China